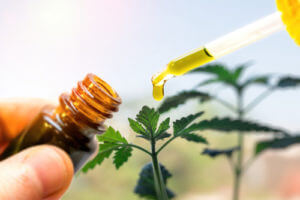 Many people often ask whether it is safe to give CBD oil for humans to their pets too. The answer is yes. However, there are certain things you have to consider when giving your CBD oil for your pets. Hence, we list some of the important factors you have to notice when giving your CBD products to pets.
Is CBD Safe For Pets?
Yes. CBD is safe for pets, as it does not result in intoxicating effects. Also, this compound won't create any severe side effects. So it is considered to be safe for both humans and pets.
Things To Notice When Giving Your CBD Oil For Pets
The CBD oils for humans and pets are almost the same, however, they have some slight differences in terms of the concentration. Hence, it is absolutely safe for giving your CBD oil to pets too.
But there are certain things you have to notice when giving "human CBD oil" for pets. Some of them are listed below:
Choose THC-Free CBD Oil
You have to make sure that the CBD oil is THC-free or has very minute quantities of this psychoactive element for making sure that it won't result in intoxicating effects. Otherwise, it may result in unwanted effects on pets. Even if high concentrations of THC does not affect you, it can affect your pets. Therefore, you have to be cautious about the amount of THC present in the CBD oil before giving it to your pets.
Give A Lower Dose Than What's Recommended On The Bottle
The dosage recommendations on the bottle of your CBD oil will be for humans. But your pet may not need such high dosages. Therefore, it is better to give them smaller doses than what's recommended on the bottle.
You can give a small dose and observe the changes in your pets. If this dosage is not working, then increase the dosage slowly till the desired effects are seen.
Be Cautious With Full-Spectrum And Broad-Spectrum Products
Both full-spectrum and broad-spectrum CBD oil will have different compounds present in the hemp plant. This includes terpenes too. These compounds can be sometimes harmful to your pets even if they are found in small quantities. Therefore, it is better to give products that are made of CBD isolates to your pets rather than full-spectrum or broad-spectrum products.
People are now giving CBD for animals too. You can give your CBD oil for pets too without worrying about any adverse effects. However, if you are not confident of giving your CBD oil to your pets, then you can get CBD products that are specifically made for pets.