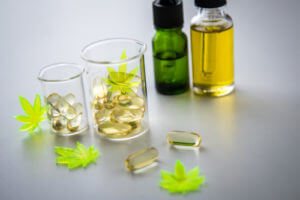 It can be stressful for pet owners when their dogs fall sick. This is because owners will have to spend as much time with their pets, as well as find the right treatment to cure the ailment. With the advances in veterinary medicine, a wide variety of treatments are available to animals. However, there can be variations in the treatment for similar ailments in canines belonging to different breeds. Due to this, some health care plans may not be effective for all dogs. In this article, we will investigate using CBD for dogs.
An Overview About CBD For Dogs
Many pet owners are turning to CBD for pets for mitigating the symptoms of ailments due to the potential therapeutic and medical effects of cannabidiol. This became more prevalent after the US Farm Act of 2018, which legalized the cultivation of hemp plants and products made using it.
Nowadays, you can easily find CBD health and wellness products in pet stores and veterinary pharmacies. This is due to their rising popularity among pet parents. As a result of this, demand for them is skyrocketing, and because of this, manufacturers are introducing newer cannabidiol pet health and wellness products. Two of the popular CBD-infused products for dogs are dog treats and chews. The other cannabidiol products are topicals, oils, and tinctures.
CBD Oil For Dogs
CBD oil is more widely used for mitigating the symptoms of ailments in dogs. This is due to its versatility; its dosage can be easily adjusted, can be administered in different ways, and is available in different potencies. More and more research shows that it can be a useful treatment option for stress, anxiety, behavioral issues, boosting the immune system, and so on. When it is given orally, it gives systemic relief, and when it is applied topically, it gives quick localized relief from discomforts. Furthermore, CBD oil for dogs is also used as the main ingredient for making treats and topical products.
CBD for pet product manufacturers provides detailed guidelines for using their products. It is customized uniquely for each product, and pet owners must be aware of this. According to experts, when giving CBD oil orally, the recommended dosage is 1 to 5 mg of CBD per 10 lbs of body weight.  When giving it for the first time, you must begin at the lower end and gradually increase the dosage depending on how the dog's body responds.
Regulations On CBD For Pets
Currently, there are no hard and fast regulations for the manufacturing of CBD products for pets. This is mainly due to the absence of a governing body for monitoring this. Due to this, a pet owner must have a good understanding of cannabidiol products. One of the most important points that you must check is the THC content. This must not be more than 0.3%, and this is especially important for dogs as they are sensitive to this cannabinoid.
Listed below are the important factors to consider when buying CBD for dogs:
CBD oil made using 100% pure hemp plant parts extract (flowers, buds, and leaves).
Hemp extract produced using a CO2 extraction process.
Organic hemp plant parts that are sourced from the USA.
CBD products that use natural ingredients.
The CBD pet product manufacturer must provide a certificate of analysis (COA).
Choose the right CBD product so that your dog will get the maximum relief from the ailment.
Choose CBD products with the right potency.
Read customer reviews about the CBD pet product that you are buying.
Ensure that the CBD pet product manufacturer is a reputed brand.
Giving CBD Oil For Dogs
There are no standard guidelines for administering CBD oil for dogs. Because of this, it is best to follow the dosage recommendations provided by the cannabidiol product manufacturer. Usually, it is available in the following concentrations of CBD: 125mg, 250mg, 500mg, or 1000mg. Also, the CBD concentration per serving of dog treat is usually 5mg. It is important to identify the ideal dosage that is suitable for your dog; this avoids overdosing and unwanted side-effects. This also ensures that your dog gets the maximum or best therapeutic effects of cannabidiol.
Important Points To Determine Ideal CBD Dosage For Your Dog
The dosage is directly proportional to the weight of your dog.
The dosage per serving varies according to the potency of the CBD product.
The ideal dosage of CBD for your dog also depends on the severity of its ailment.
CBD Oil Dosage For Various Potencies
Oil with 125mg of CBD = 4mg CBD per 1ml of oil
Oil with 250mg of CBD = 8mg CBD per 1ml of oil
Oil with 500mg of CBD = 16mg CBD per 1ml of oil
Oil with 1000mg of CBD = 32mg CBD per 1ml of oil
CBD Dosage According To Weight
10 lbs = 1mg to 5mg CBD
20 lbs = 2mg to 10mg CBD
40 lbs = 4mg to 20mg CBD
60 lbs = 6mg to 30mg CBD
80 lbs = 8mg to 40mg CBD
100 lbs = 10mg to 50mg CBD
Keeping these points in mind will help you to effectively administer CBD for dogs so that your pet can get maximum relief from the therapeutic effects of cannabidiol.