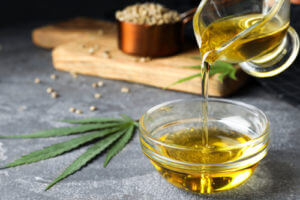 CBD-infused products are used for various therapeutic and medical purposes. They can be ingested or inhaled for systemic relief from ailments. Also, they can be applied to the skin for localized relief from discomforts. For instance, CBD topical products like creams, balms, ointments, etc., are used by people for treating dermatological issues like dryness, rashes, healing minor burns and wounds, etc. This is because of the potential therapeutic effects of cannabidiol which it produces by interacting with the receptors of the endocannabinoid system (ECS). In this article, we will investigate whether CBD is absorbed through the skin or not.
What Is CBD Topical?
Topical CBD products are formulations like balms, salves, lotions, creams, ointments, etc., that can be applied to the skin. Compared to cannabidiol products that are ingested, they will not produce any psychoactive effects because the cannabinoid does not enter the bloodstream. Because of this, there is no risk of side effects.
Is CBD Absorbed Through The Skin?
Yes, cannabidiol (CBD) is absorbed through the skin, but it does not enter deep into the dermis. This is the reason for the quick localized therapeutic effect and absence of systemic effect of topical CBD products.
The reason that CBD topical products do not penetrate deep into the dermis is because of the skin's low permeability. So, to get appreciable benefits, you must liberally apply them to the affected area of the body. In doing so, the molecules of cannabidiol enter through the pores of the skin and interact with the receptors of the ECS to produce therapeutic effects. Furthermore, to get the maximum effect, you must apply them consistently.
What Are The Benefits Of CBD Topical Products?
The main benefit of CBD topical products is that they promote skin health because cannabidiol stimulates the ECS. Also, they provide hydration, improves the elasticity of the skin, and slows down the formation of wrinkles. Furthermore, studies suggest that CBD ointment can be a better option than steroid ointment used for treating flare-ups due to psoriasis and eczema.
Where Can I Get CBD Topical?
You can get CBD topical products from pharmacies and online stores selling cannabidiol health and wellness products. Also, to ensure that you are getting maximum benefits from using them, it is important to purchase from a reputed cannabidiol retailer. The best way to confirm this is to check for the certificate of analysis (COA).
On a final note, you must be aware that cannabidiol (CBD) can only mitigate the symptoms of ailments and cannot cure them. We hope that the details shared above were useful for you.